When you first hit the road in your RV, having the most basic essentials is usually all you really need. But there are a few upgrades and other techy-type gadgets you might want to take advantage of.
These upgrades are designed to make your RV road trip just a little more relaxing and take some of the stresses out of the day-to-day grind. Some upgrades you will want to make to your rig are things like tire pressure monitoring systems, propane level sensors, and a dashboard camera.
Having a dashboard camera in your motorhome or tow vehicle has many benefits. First of all, they are incredibly useful in the event of an accident as evidence of who is at fault.
In this article we are going to dive a little deeper into what a dashcam is, explore the many benefits of having one, and throw in a few recommendations.
This article may contain affiliate links. As an Amazon Associate, we may earn a commission on qualifying sales at no extra cost to you.
What Is A Dashboard Camera?
A dashboard camera, or dashcam, is a camera that mounts to the windshield, dashboard, or rearview mirror of a vehicle and continuously records everything that happens while you're driving.
Different models of dashboard cameras can record what happens behind your vehicle and some can record what happens inside your vehicle.
The video footage that is captured can be stored on an SD memory card, internal storage, or uploaded to the cloud for viewing later.
Why Should You Get A Dashboard Camera?
Dashboard cameras have become more popular over the past few years because of their many benefits. Do you want to turn your next RV road trip into memories that will last for years? If you have a dashcam mounted in your RV or tow vehicle, you can capture real-time footage of your adventures to share with your loved ones later.
Or, if you are a content creator, you can easily use the footage from your RV dashcam for your next YouTube video.
Benefits Of Having A Dashcam In Your Motorhome Or Tow Vehicle
Having a dashboard camera installed in your RV or tow vehicle has many advantages. Just a few of these are the ability to provide first-hand evidence if you are involved in an accident, or witness an accident on the road, recording the amazing sights of your road trip, and as a reminder to drive safely.
Evidence In The Event Of An Accident
I'm sure you've seen videos online of drivers cutting in front of semi-trucks only to slam on the brakes to cause an accident. This is a scam that typically involves two vehicles working together trying to get a payout from a commercial trucking company.
Luckily, truck drivers have begun to fight back by installing dashboard cameras in their trucks to prove they are not at fault.
By having a dashcam in your motorhome or tow vehicle, if you are involved in an accident, the footage can be used in your favor to prove who is at fault.
Document Your Travels
For me, the most beneficial part of having a dashcam in your RV is for documenting your travels. Most RV owners capture some pretty amazing road trip videos with their phones or a GoPro. But there are those times when you're camera isn't ready and you miss the most amazing, once in a lifetime event that would have been captured on your dashboard camera.
Encourage Younger Drivers To Drive Safely
If you are the parent of a younger driver, having a dashcam in your daily driver may encourage them to focus on the road and to drive safely.
A dashcam could even remind an experienced driver to pay more attention to driving rather than adjusting the radio, texting while driving, or any other common driving distraction.
Disadvantages Of Having A Dashboard Camera
There are certain downsides, or disadvantages to having a dashcam as well. Some of these downsides are one-sided evidence, theft, and distractions while driving.
Footage Can Be Considered One-Sided
In some cases, the footage you capture of an accident may seem a bit one-sided. In other words, it may not tell the whole story, or record all of the events leading up to an accident.
While dashcam footage can prove fault in an accident, it can also prove that you were at fault.
Can Encourage Vehicle Break-In
Having anything out in the open when you leave your RV or tow vehicle unattended can encourage a thief to smash a window and take what they see.
A dashboard camera isn't very useful if it has been stolen in a vehicle break-in.
Dashcams Can Be A Distraction To Some Drivers
Just like texting, turning up the radio, or looking at the GPS unit, a dashboard camera can be a distraction to some drivers.
Some dashcams are equipped with monitors that you can see what is being recorded in real time, which may encourage some drivers to watch the video instead of the road.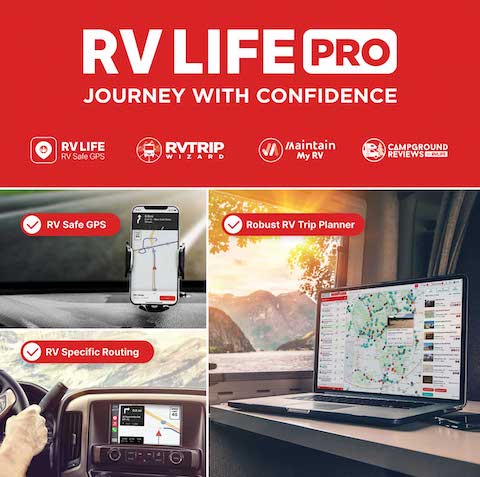 What To Consider When Choosing A Dashboard Camera
When choosing a dashboard camera for your RV or tow vehicle, there are a few key considerations to keep in mind.
Below we have compiled a list of these features that you will want to look for when choosing a dashcam.
Viewing Angle
A good rule of thumb to follow regarding the viewing angle of a dashcam is the wider the angle, the better.
Some cheaper model dashboard cameras will create a fish-eye effect. If you are looking to avoid this, it might be a good idea to invest in a higher quality dashcam for your RV.
G Sensor
The G-Sensor is a feature that will automatically detect if there has been an accident and will save that portion of the video. Plus, it will keep that portion of the video from being recorded over later.
Video Resolution
The video resolution of a dashcam is extremely important if you plan to use your footage for any content creation. Typically, the higher the video resolution, the higher the price. But there are many options available with 1080P and higher resolution. Anything lower than that would really be a waste of money.
Memory Capacity
Most dashboard cameras will require you to purchase SD cards separately to store your footage. What size SD card you will need will ultimately depend on how often you plan to use the camera.
Keep in mind, however, that the dashcams with higher resolutions will require larger capacity SD cards for storage.
Night Vision
A dashboard camera with night vision recording capabilities is a great feature to have if you do any traveling at night.
Extra Features
Small Size – A small dashboard camera is less likely to obstruct your view of the road.
GPS Tracking – This allows the dashcam to record the exact location when involved in an accident.
Rear Camera – Some dashboard cameras have a rear-facing camera that records what happens behind you, like being rear-ended.
Video Screens – These video screens make it easier to view the video that has been recorded or be able to see what is being recorded in real time.
Parking Mode – Parking mode on a dashcam uses motion sensors to detect any movement in your vehicle while you are away. For instance, it will turn on and begin recording if someone hits or vandalizes your RV while it's parked.
Price
Budget is always a factor when buying anything. The prices of dashboard cameras can range from just under $20 to several hundred dollars. It's not difficult to find an affordable dashcam for your RV with the features that you want.
Our Top 3 Dashcam Recommendations
Now that we've covered why you should consider a dashcam for your RV and what to consider before making a purchase, let's get to our top 3 dashboard camera recommendations.
1. Garmin Dashcam Mini 2 Dashboard Camera
If your looking for a dashcam for your RV that is easy-to-use and small enough to stay out of the way, there is no better choice than the Garmin Dashcam Mini 2. In fact, this camera is so small that some users leave the USB charging cable attached so they don't lose it in their vehicle.
This camera features a 140-degree field of view and is capable of 1080p resolution at 30 frames per second.
Although this dashcam doesn't have a display or GPS location, it does have voice controls in case you need the camera to start or stop recording while driving.
Other notable features of this compact dashcam are forward collision warning, lane departure warnings, and stop light notifications.
You can save your recordings on a micro-SD card or use the Garmin Vault, which is a cloud-based storage.
2. REXING V1 Dashcam
The REXING V1 dashboard camera is a great choice for RVers looking for a small camera that isn't a distraction when mounted in your RV or tow vehicle. But don't let this camera's small size fool you.
With features like a 170-degree wide-angle lens, you can be sure this unit will capture everything during your road trip.
In addition to its ultra-wide-angle lens, this dashcam has the ability to record in both landscape and portrait modes. And you can watch your videos on your smartphone via an available app.
Another great feature of this dashcam is the wide dynamic range (WDR) technology. This allows the camera to produce high quality images and videos regardless of lighting conditions.
For protection from extreme temperatures, this dashcam uses a supercapacitor which allows the unit to be operated in temperatures from -20 to 176 degrees F.
The parking mode feature will detect any vibration and immediately turn on, recording whatever it was that made your RV or tow vehicle vibrate.
3. Rove R2-4K Dashcam
The Rove R2-4K dashcam is the perfect addition to any RV dashboard. Not only will the 150-degree field of view capture those stunning views, but it will do it in 4K resolution. The high-quality recording of this dashcam is great for recording scenic drives, or in some cases, the event of an accident.
One notable feature of the Rove R2-4K dashcam is its ability to constantly record and automatically save each recording. It does this by recording three-minute clips and erasing the oldest video clip to make room for the newest clip.
Of course, you can save any footage you want to keep with an SD card or by utilizing the built in Wi-Fi to download your recordings to an external device.
This dashboard camera also features an LCD screen which allows for real-time viewing of what's being recorded. However, some users have said that the user interface is very difficult to use, especially when toggling through the menu choices.
Overall, this dashboard camera would make a great addition to any motorhome or tow vehicle. What it lacks in a user-friendly LCD interface, it more than makes up for with video quality.
Final Thoughts
As you can see, having a dashboard camera in your RV or tow vehicle can have many benefits. The main benefit is having the proof you need if you are ever involved in an accident.
My favorite benefit of having a dashcam for the RV is having the ability of capturing all the footage on those epic adventures.
David is a U.S. Air Force veteran who currently lives on the Texas Gulf Coast with his wonderful wife of 26 years and their two furry companions, Gus and LuLu.
As an outdoor and RV enthusiast, David loves to spend his free time taking road trips and spending as much time as possible at the campground with the family in their 2018 Dutchmen Kodiak 201QB travel trailer
(Visited 24 times, 1 visits today)
Last modified: October 14, 2023