If you walk into any RV dealership or drive through any campground, you'll notice that nearly all RVs have the same basic graphic design. The ever-popular swoosh, swoop, and swirl. It doesn't matter what brand or manufacturer; they all share the same swoosh or swirl pattern. In fact, many of them are even the same color.
Let's face it, RV decals are…boring.
I have read many opinions regarding the exterior design of RVs. As you can imagine, those opinions range from people loving them, to people hating them, to others not paying any particular attention to them.
In this article we are going to discuss the RV swoosh decals, explore the evolution of RV decals through the years, and find out if there are any motorhomes or campers that don't have them. Plus, we'll discuss what we think the future holds in terms of RV exterior design.
Let's jump in…
This article may contain affiliate links. As an Amazon Associate, we may earn a commission on qualifying sales at no extra cost to you.
What Choices Do We Have?
RV owners share many of the same interests. We love the adventures, the scenery, and the freedom that owning an RV brings. But we are all still individuals with different opinions. We each have our own tastes when it comes to colors, designs, styles, etc.
With that being said, what choices do RV manufacturers offer when it comes to exterior styling options? The answer…there are none.
Sure, you might get to choose an outdoor kitchen or slide-toppers. Heck, you might even get the option for an outdoor TV or maybe even an outdoor shower.
Other than that, we get the same ole' swoosh and swirl designs.
I would almost bet that if you were to park two similar RVs side-by-side, removed all branding logos and names, most people would have a very hard time telling the difference between the two.
It seems the only choices we have when it comes to design preferences is the floorplan and possibly the interior colors.
What's Up With The RV Swoosh Graphics?
Most larger RVs, and many smaller campers, come standard with the swoosh, or tribal-like graphics plastered down the side. It seems the larger the rig, the more swirls and swooshes. These graphics might range in size and color, but most are very similar to each other.
But why?
The best way I know to answer that question is because of their massive size. If they were a solid color, like white or grey, they would look pretty plain and even more boring.
When it comes to the opinions of the RV swoosh decals, many RV owners agree that they're hideous.
On the other hand, there are those that have no opinion on the matter or just have never really paid much attention to the decals. And yes, there are even those who absolutely love the swooshes.
Kellie and I both agree that these industry-standard decals are dull and overused. In fact, most RV manufacturers use the same, or very similar, design.
There are some brands that stand out from the pack, but most RVs, whether it be a camper or a motorhome, all look like they came from the same production line.
Don't get me wrong, some RV manufacturers might add a scenic decal or some wild animal to the swooshes to mix things up. But even those graphics are very similar from brand to brand.
How many times have you seen the mountain decal? What about the wolf or the bear?
Overall, regardless of the number or size of the swooshes, I believe they are meant to break up the solid space. If a 35 to 40-foot RV was pure white, it would strongly resemble a prison bus or a huge moving truck lumbering down the road.
In turn, this would give the impression that RVs are clunky and hard to manage, which is not a great selling point. They don't want you to know that until AFTER you buy one.
With the technology that is available in this day and age, it's time for RV designers to go back to the drawing board (literally) for some fresh and modern decal designs.
RV Decals Through The Years
RVs haven't always been "decorated" with the dreaded swoosh, swoop, and tribal decals that are so prevalent today.
In the 1950's and 60's, motorhomes and campers would often be painted and if they had any decals at all, they were straight lines, similar to pin-striping.
During the 70's and 80's things began to change. Winnebago, for example, still carried on the tradition of clean, straight lines, but added a big, bold W to the design. And when you saw one of these blocky motorhomes rolling down the road, you automatically knew which brand it was.
RV decals and graphics were primarily smooth, straight roll striping and block lettering until late in the 1990's.
Then things changed.
In the late 90's there were many RV manufacturers still using the bold, roll striping down the side of the rig. But they began to make the striping look as if it were blowing in the wind towards the rear of the camper. Or they would put "cuts" in the decals to give them a flashy new look.
We had a 1999 Hi-Lo Classic that we can use as an example. You can see that there are two horizontal lines extended the length of the trailer. Towards the back of the camper you can see that the stripes almost look like a pair of ribbons blowing in the wind.
Who knows. Maybe this design was meant to give the illusion of motion and speed. Or maybe it was to get other people's attention, so they knew you were going camping.
After that, the graphic designers just went nuts with the swooshes and swirls. And the bigger the rig, the more swooshes.
Are There Any RVs Without The Swoosh Graphics?
Not every RV has the typical swoosh graphics. The most obvious of these is the Airstream. They have been able to build a brand and a loyal following with the simplest of designs. It's kind of hard to beat the classic look of the Airstream with its rivets and shiny exterior finish.
Class B motorhomes, or campervans, typically don't have the swoosh or any other graphics plastered down their side either. In fact, many of these campervans have a smooth, sleek appearance, like the Winnebago Revel below.
Another type of camper that doesn't follow the swoosh design trend are off-road campers. These campers are built to head off the beaten path to where there is only solitude and an escape from civilization.
So there is no need to look trendy or cool. In fact, many of these off-road campers have a simplistic, minimalist design. Which means, no bells or whistles when it comes to exterior graphics.
I have started to notice that some of the newer travel trailers, like the Coleman Lantern, are moving towards a more streamlined decal design. Maybe some of the graphic designers employed by the RV manufacturers are getting the message and deciding to change things up a bit.
Either way, if you're on the hunt for a motorhome or camper that is free of the swoosh graphic, they're out there.
Custom RV Graphics
There are a handful of RV manufacturers on the high-end, luxury side of the RV industry that spend more time on their graphics designs. These RVs are generally special ordered and will have a price tag well-above what most people can afford.
For example, Justin Bieber had a Prevost Marathon Class A motorhome custom made with, you guessed it, custom graphics. These graphics aren't your run-of-the-mill vinyl decals. All of the designs were painted on by a group of professionals.
The price tag on his coach was somewhere in the neighborhood of $2 million bucks. Of course, the professional graphics were only a small portion of that price tag. Other costly amenities include the custom-built sofas and heated marble floors, just to name a few.
So, if you really want to ditch the swooshes and swoops on your next rig, a custom rig with custom graphics is the way to go. But you might want to start saving your allowance and dig through the sofa cushions for any loose change.
The Future Of RV Graphics
So what does the future have in store for RV decals and graphics designs? Is the RV swoosh pattern here to stay? We can only speculate. However, if we look at past design trends, things are due for a change.
I believe we will begin to see a shift from the swoopy, swirly graphics of today's RV designs into a more streamlined, clean, and modern look. In fact, some RV manufacturers are already giving us a taste of what lies ahead.
As I mentioned above, Coleman is already starting to change things up a bit. And I think other RV manufacturers will follow suit.
But really, who knows? We'll just have to wait and see.
Final Thoughts
There are three opinions surrounding the RV swoosh and swirl decals on modern RVs. You either love them, hate them, or have never really paid much attention.
For us, we just think it's time to change things up a bit from the everyday, boring, cookie cutter graphics you see on nearly every rig, everywhere you go.
In time, the RV swoosh design may become a thing of the past. One day we'll all look back and say, "What were they thinking?"
David is a U.S. Air Force veteran who currently lives on the Texas Gulf Coast with his wonderful wife of 26 years and their two furry companions, Gus and LuLu.
As an outdoor and RV enthusiast, David loves to spend his free time taking road trips and spending as much time as possible at the campground with the family in their 2018 Dutchmen Kodiak 201QB travel trailer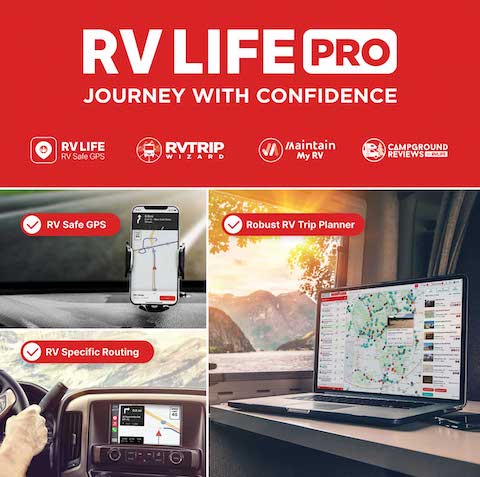 (Visited 62 times, 1 visits today)
Last modified: October 14, 2023